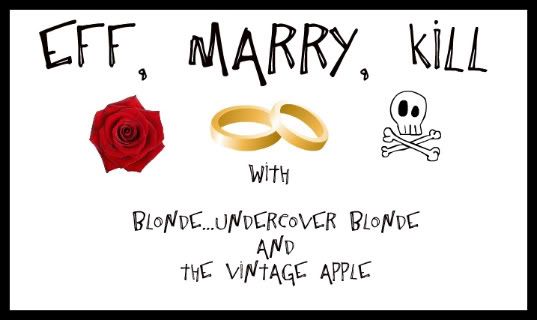 Happy Thursday!
just one more day before the weekend!!!
Today i am taking part in an awesome link up from
Heather aka
Blonde...Undercover Blonde
and Michelle aka
The Vintage Apple
EFF, MARRY, KILL
my candidates are ....
Paul Rudd, Jason Segel and Jonah Hill
This is a pretty tough one for me to be honest because if i had my way i would take both Paul Rudd and Jason Segel away to an island that would let me marry them both! I'm sure they would enjoy being brother husbands!
But thats not the aim of the game so my pick is...
Eff
Paul Rudd...look at that picture above and tell me you don't want him in your bed!!
Marry
Jason Segel
again look at that picture, his cute little face says it all! plus he has all the components of my dream man, tall, funny sexy and cute! luckily my real life boyfriend fits that description too ;)
Kill
Jonah Hill, hands down! he just drives me insane, i really do not think he is funny!
so there it is!
who would you EFF, MARRY and KILL??
link up so i can see!!