this will be another long one probably with not too many pictures as i am lazy :P but i figured it would be best to catch up the blog so all of my post don't have to be soo long!
The airport buss
flybussen
, dropped me off outside of the busstation, but unfortunately in my sleep deprived state i could not work out where the entrance was so i decided to stealthily follow a group of studenty looking folk to see if they could guide me there. apparently not :/ i was following so stealthily that i lost them within minutes but had luckily found myself right near the trainstation. internally jumping for joy
there must be a tourist information in here
there wasnt! but i did see a sign for luggage lockers yay a chance to relive myself of 41kg of weight, more internal happydancing was had!. the only lockers left available were right at the top, waay out of my reaching range especially holding a 22kg bag above me but luckily a nice (possibly drunk) norwegian man took pity on me and helped me pile my bags into the lockers. free at last from the weight i decided it was time to find the student center.
I thought i had been extremely clever and printed out a map which would tell me how to get to studentsenteret i was wrong! after asking many people and wondering around aimlessly for what felt like hours but was possibly more like minutes, a nice norwegian man informed me that he was walking that way and would be able to walk with me half way and direct me the rest of the way. on the walk we spoke a little (in english unfortunately) he is a teacher at UiB and thought i was american :P our small journey comes to an end as he is going straight on but informs me i need to take the left and then a right and then a left up the
steepest hill of my life!!
seriously i do not have to worry about getting fit and losing weight in Bergen everything is up hill i'm going to end up with some crazy muscles in my legs! but i made it up the hill barely and finally see the student center yaaay! i stand in line for ages sweating profusely i might add untill i finally get to see someone behind the desk a nice flirty norwegian man who gives me my room key and wash card. and finally i have it the key to my room for the rest of the year i cannot wait to get to fantoft unload my luggage and sleeep!
but first a quick stop at rema1000 for supplies because i just know i am going to be hungry by the time i get home. walk back to the station without getting lost yaaay and find a big group of spanish ladies looking confused at the lockers so i explain how to use them and then they help me get my luggage out of the stupidly high lockers. I cant face trying to find a bus to take my home so i jump in a taxi (13.50kr) just as the rain starts...to fantoft studentboliger i tell him....
Fantoft
The taxi drops me off at fantoft and i look around blankly i have no idea what to do next there are a ton of buildings and i cant see anything like a reception. luckily the vendor of fantoft pizza takes pity on me and tells me where to go
up more stairs!
he also says i can leave my bags with him for
ti minuter
off i go to find this reception and hopefully find someone to help me lug my bags up some stairs to wherever i am going. the reception is closed but luckily there is a girl sitting outside called brigita she tells me that the reception wont be open for a week or so, a few moments later some men arrive at the reception to deliver something or other seizing this chance i ask one of the people inside if there is anyone who can show me where my room is/help me with my bags. they dont look positive about the idea but say they will see what they can do, i wait a few more minutes untill a handsome but short norwegian comes out to help me, brigita helps me aswell. the norwegian shows me a slightly longer way of taking my bags but without any stairs and soon we are standing outside my new front door, 241 and 243
wait what! i was meant to have a single person appartment wasnt i? apparently not!
ah well either way it is a nice apartment with a decent sized kitchen and a nice bathroom and of course my lovely bedroom number 243.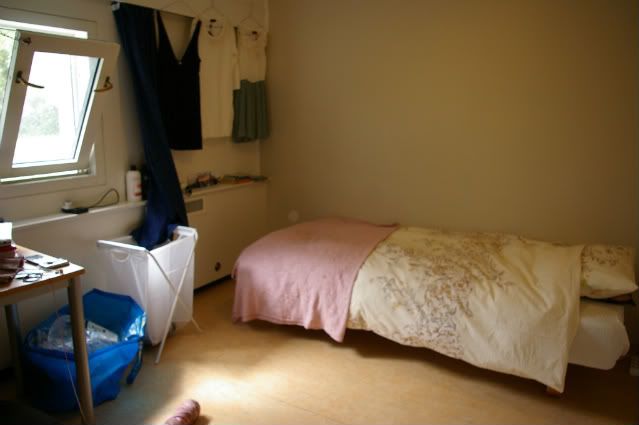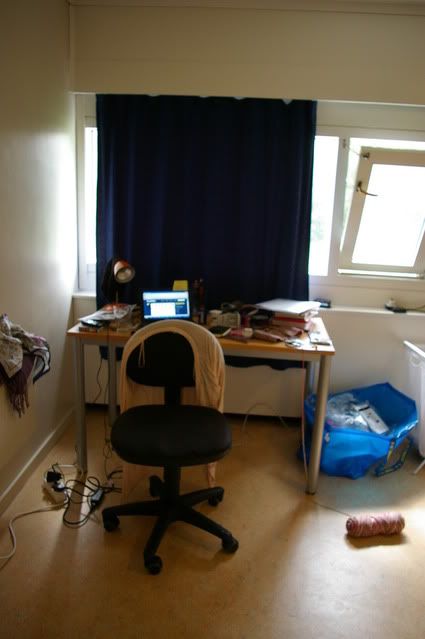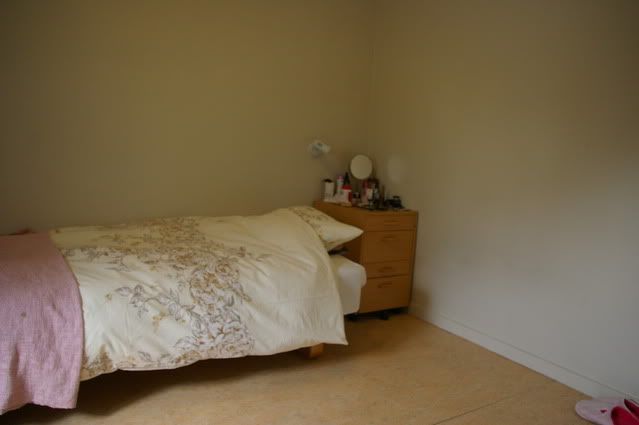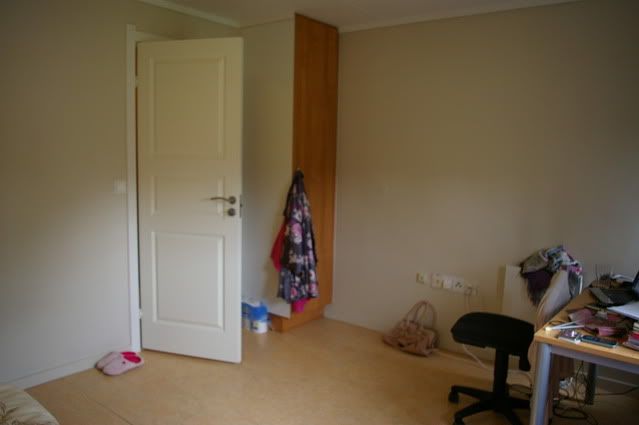 excuse the mess it is much tidier now
Brigita gave me an internet password and then offered to show me around bergen, i was tired but needed to get a new sim card and take a trip to Ikea so i took her up on her offer and off we went. we met up with her friend stefan(?) and i manged to get almost everything i needed from ikea which was awesome.
On my second day it rained a ton and i really didnt feel like doing anything so i stayed inside and made my room all lovely and nice yay, i also joined the gym with brigita it is literally a 5min walk from my room so i have no excuses not to go!
and on that sentiment i got up fairly early the next day and headed to the gym, wow it was crazy hot in there and the machines had none of these internal fans like i am used to so i took it slow and did 30 mins on the treadmill and 10 mins on the bike, i also did some hand weights but the way the gym was set out i was unsure on where the best place to use these was. the gym was good and also bad for the same reas
hot norwegian guys
the good part of this is obvious but why bad i hear you ask? because i looked like a melty lump of mess!
on the way back from the gym i spotted a girl sitting down looking slightly bemused. recognising the signs i offered to help her with her bags. she was in block B as we took her bags up we started talking her name is Corinne and she is from france, we arrived at her room and she had a double apartment just like me although her's was way smaller than mine and not as nicely furnished
thank you flirty man
unlike me she already had a flatmate sophie a third year portugese girl studying marine biology, she is moving out in a month but was very nice and offered us cake and coffee as i was all gross and sweaty from the gym i declined, gave corinne my room number and said i would see her again.
many other things happened during the next few days, i helped some people out mattheis from germany who arrived too late on friday to collect his key stayed in the room next to mine for the weekend and sebastian also from germany who arrived only to discover he had no bed in his room.
On saturday there was a knock at my door and outside stood Corrine :) we decided to head over to safari
the store in our student village
to buy some sweets and a paper then we sat out in the sun and attempted to try and understand some of the articles they were hard and we were not very successful. as it started to get chilly and we both got hungry we went back to our respective rooms and had a rest. While alone at home i managed to read one news article alone with the help of google translate! after adding Corinne on msn, we decided to meet up 30mins later and try and find people. i quickly made myself presentable and mixed up a bottle of vodka acai berry with apple juice
its always good to be prepared
outside we couldnt really find anyone so we just sat on a picnic table, chatted and drank. I am very thankful to have already found someone who is similar to me and understands me even when i am speaking at full pelt. as the bottle i had mixed up came to an end we noticed that a few lights we on in the floor above mine and we decided to go and knock them to see if anyone wanted to join us! on our way we noticed someone sitting outside klubb fantoft
the place people sit to get free wireless
and i decided in my slightly tipsy state to say hello, his name was ricks (i think) and he was doing the second year of his Mphil or something, we chatted for a while and then he invited us to his room for some more drinks, we figured its a saturday night so why not. his room was in Gblock and was a single apartment like the one i was origionally meant to have
well again thank you flirty man
i am so pleased i have the room i have. when ricks saw my room his jaw dropped and he told me i had the heaven of fantoft as it is so big, refurbished and has wireless so i have decided not to be worried about having to share seeing as it seems like i have got a good deal. ricks had to go to work at 2:30am so after chatting and drinking for a while Corrine and I headed home for a well deserved sleep.
On sunday i had a lazy day i attempted more reading of the paper and moved my room round a little it was nice to have a calm day.
On monday Corrine and I met at 12:30 to head into Bergen. She showed me where to get my monthly buspass and i showed her where to buy a phone. we also stopped into a bookshop called Norli so i could buy a dictionary. I bought an engelsk-norsk/norsk-engelsk one before later realising that all the verb stuff included was aimed at norwegians learning english and not the other way round. ah well i decided to order the more useful norwegian-english book from amazon as it was £20 cheaper and this way i get both!
Corrine and I had some questions about our rooms so we headed to the student center, there were loads of people waiting so we decided to get some food while we waited.
we ended up buying an eple juice and a banana
sitting on a table in the student cafeteria we chatted looked at our purchases, we were both pleased to be mistaken for norwegian students by a young woman looking for people to take part in her survey. we soon realised the time was getting on and we should get a ticket so we could stand in line to be seen by the people dealing with housing enquiries. while we waited i started up a coversation with a Norwegian girl called Kirsten(?) who was about to start studying english, she was very nice and i hope she is possibly in one of the english classes i will be taking. when i got to the desk i asked the woman if my contract had been updated to show i was in a double apartment not a single one she said it hadnt but she would update it, she also updated it with the new rent as all rent has been increased :/ so although i am now technically paying less than i would have been, it feels like i am paying much more. Corrine helped me with my weeks shopping at rema1000
i bought a block of fish its weird i shall do a food post when i cook it
, then we got on the bybanen which was my first time and stood squashed like sardines on the way back to Fantoft.
back at fantoft we both went our seperate ways to chill out and make food, and then later met back up in my room where we listened to music and ate smash
but not the good stuff just the bar
she also confirmed that my apartment makes some freaky noises which is good because i was worried that it was just me that could hear them! maybe i have a ghost.
ah well untill next time,
kyss kyss